On the site "Charibon" (Japanese only) operated by Value Books : send or ask for pick-up : books, DVDs, game software, etc. that you no longer need the items will be sold and a percentage of the sales is then donated to Médecins du Monde to support "Housing First Tokyo Project".



April campaign: each donation will be 10% higher
The Charibon campaign is being held until April 26th. Please take advantage of this opportunity!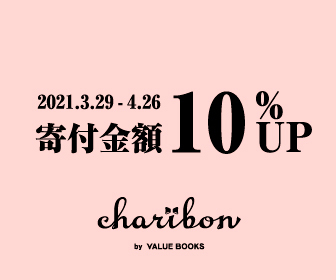 ◆

Click here to use the Médecins du Monde Charibon site (Japanese only)


◆

Click here for the Charibon site WEB form (Japanese only)
* Old books published before 2010 and manga sets that are not complete are often not priced, so be sure to sort them before donating.
* If you want to make an assessment before sending a book, a "trial assessment" (Japanese only) is available just takes a picture of the book with your smartphone.
How to use
① Gather the books you have read and the DVD / game software you no longer need in a cardboard box or paper bag. Click here for details (Japanese only)
*Free shipping on 5 or more items. If less than 5 items, 500 yen will be deducted from the assessed amount per box.
* If you are a minor, please ask a parent or guardian to apply.
* Books without "ISBN", encyclopedias, convenience store comics, self-published books, manga magazines, general magazines, 11 or more titles of the same item, single CDs, all products that may violate the "Child Prostitution / Child Pornography Prohibition Law" We cannot handle products that may conflict related laws and regulations, album CDs / DVDs / game software without standard product numbers, and obsolete or broken games.
② Apply using the WEB form to ask for pick-up
Fill out the WEB form of the charibon site "Médecins du Monde". After completion, the courier will come to pick up the box(es) at the specified time and date.