THE BEGINNING OF "TOKYO PROJECT"
NPO TENOHASI (subsequent project partner) has been providing support to vulnerable people since early 2000, they realized that many who came to seek assistance have carried heavy burdens in their life. In a study conducted in Ikebukuro by the project representative, Dr. Suimei Morikawa (psychiatrist), between 2008 and 2009 it became clear that a significant percentage of the homeless (target group) in the study, exhibited some sort of psychiatric disorders (40% in the 2008 survey and 60% in the 2009 survey) with over half of them at risk of suicidal tendencies.
Social assistance is available for people living in poverty in Japan.
However, the procedure for obtaining social benefits is long and laborious. This can be a particularly difficult process for those with mental disabilities. For that reason many do not have any social or public support and even those who do have support require additional individualized care and attention to maintain those supports. As a result, many individuals remain on the streets.
This condition leads to homelessness and concerning people with mental disabilities it is clear that specialized care and support is urgently required. Therefore, in 2010, the "Tokyo Project – Towards Improvement of Mental Well Being and Living Standards of the Homeless" was jointly founded by Médecins du Monde Japan(MdM Japan), TENOHASI (recognized as a NPO) together with Bethelbukuro.
The project aims to improve access to medical care as well as health and welfare programs, to raise the level of mental well-being and living conditions, to provide lifestyle stability in communities, to increase social awareness on this issue and actively take part in advocating policy making decisions towards the improvement of the current conditions.
This began as a joint effort amongst medical and welfare specialists together with the support of public volunteers who hold a high degree of interest in this issue so that those who are homeless can
"live safely in their neighborhood as they cope with a disability".
TOWARDS A CONSORTIUM OF 7 ORGANIZATIONS
– OVERSEEING MEDICAL, ADVOCACY AND COORDINATION EFFORTS –
What started out in Ikebukuro with 3 partner organizations in 2010 as the "Tokyo Project" increased in 2017 with the addition of 4 more organizations and developed into a consortium of 7 organizations expanding geographically to include Toshima ward and Nakano ward.
The organization originally named "Tokyo Project", it was renamed in 2016 and became "Housing First Tokyo Project".
Overall the project is active in many different areas of welfare concerns, partner organisations collaborating and using their professional expertise to conduct daily administrative and project related activities. MdM Japan takes part in outreach programs (night patrol) as well as in Macaroni's operations (day time support activities) and the overall coordination of the project. In addition to furthering social awareness of Housing First within Japan, the project endeavors to urge the realization of Housing First by administering proposals for additional policy measures.
As of April, 2017 the Housing First Tokyo Project organization is comprised of: Médecins du Monde Japan, TENOHASI, Bethelbukuro, nursing home station KAZOC, Tsukuroi Tokyo Fund, Yurin Clinic, and Habitat for Humanity.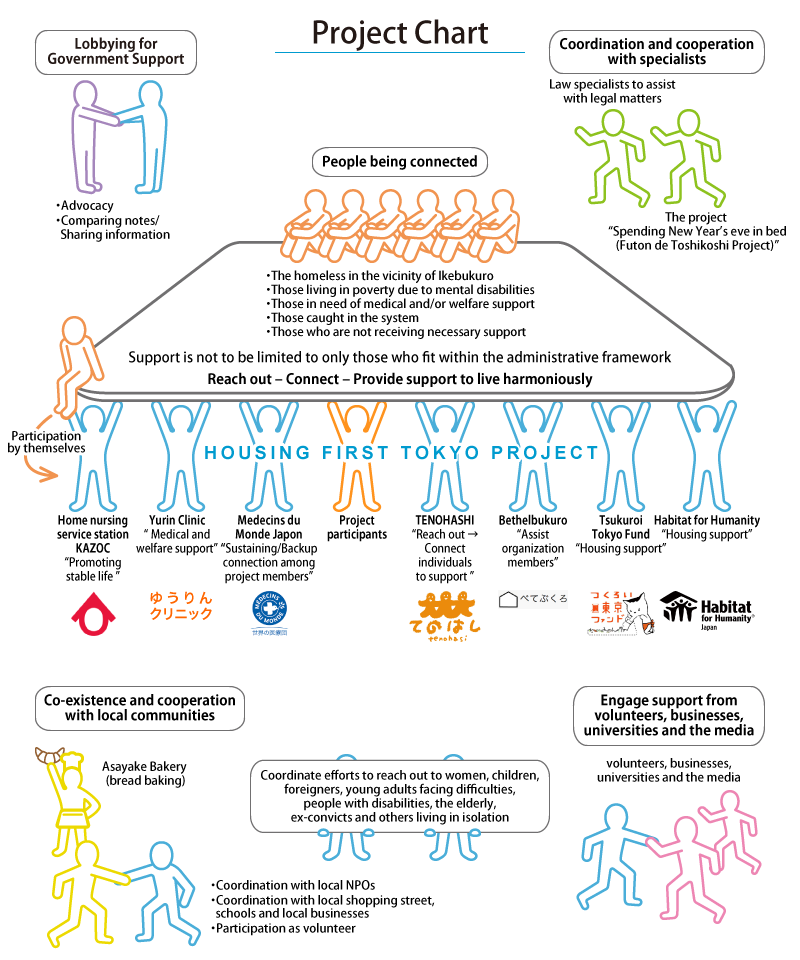 Housing First Tokyo Project member groups (as of August, 2017)
Médecins du Monde Japan
Yurin Clinic
OUR PROGRAM
Rehabilitation Program (day time support activities: Macaroni)
・Provide support once relocated to residence
・Meal support (assist in meal planning, shopping, cooking, eating together, clean up), craftwork, agricultural (farming) experience, computer skills training and photography, -provide those social experiences through group events to encourage involvement in society
First Approach
・Outreach program (Night patrol), food distribution, first point of contact to reach out to newcomers at health clinics
Care Management
・Provide individual support medically and administratively to those in need by determining their personalized needs
Health Maintenance
・Provide medical examination at clinics as well as medical consultation service or nursing through remote visits by the outreach team, and conduct health consultations for those who come to the soup-kitchen or at night patrol
Advocacy
・In our advocacy and policy work, we speak up to governments or administration services / Increase awareness by speaking at educational and research agencies
Assistance for Supporters
・Provide ongoing assistance to supporters to increase their knowledge and awareness of the issues through study sessions, training and opportunities for individual counseling.
ON SITE PROGRAMS
At any given time there are over 200 people who line up to enjoy a warm meal twice monthly at the food distribution sites. A number of programs are available at the sites from health consultation service, welfare assistance, acupuncture, massage, social conversation as well as distribution of clothing. At the health consulatation, which is supported by approximately 10 volunteers, there are about 40-50 people who come through during a time span of an hour and a half at each event. There are those who seek medication, those who come to say hello or to spend time to chat while others come for health advice. The reasons for their visit are varied and complex and it validates the need for such health care clinics. At Ikebukuro Park alone the number of medical consultations exceeds 1,000 cases a year and this in a developed nation such as Japan. In recent years, women and young people who sleep overnight at internet cafes are increasing while there has also been a noticeable increase in the elderly at these onsite programs. Many of the symptoms they inquire about include those associated with a cold such as chills, intestinal disorders and skin ailments but in the background lurk many cases of hidden conditions such as high blood pressure, diabetes, so-called lifestyle diseases as well as more serious conditions such as heart disease. Essentially such conditions require continuous treatment which is not possible when living on the streets.
A stable diet, a warm place to sleep is the minimum necessary with which to begin treating such hidden health conditions.
It is expected that public assistance service are available to offer health services those who requires constant medical care such as regular medical visits, hospital admittance and surgery but the current legal system makes it difficult for those living on the streets or with disabilities to be able to readily access medical treatment because of many barriers to overcome.
"MACARONI", THE AXIS OF THE PROJECT WHERE PEOPLE CAN COME TOGETHER
"Macaroni", in cooperation with Asayake Bakery are places for people to come together where they can feel a sense of belonging, for those who once lived on the streets in isolation as well as those in society living with disabilities: it is a focal point in their life.
It is a place where one feels able to make their own decisions, to take action instead of feeling that they have to or are forced to. It is a place where they feel independent and free to be themselves, without fear of judgement. A place where they feel safe. A place where they know they can come to meet friends and others they want to see.
In addition to daytime activities such as cooking classes, handicrafts, computer classes, preparations for night time patrols and medical consultation are also held here.
Asayake Bakery is located in the back alleys of Kanamecho, Toshima ward. In the frame of our rehabilitation program, and under the supervision of the owner (also baker), a bread making workshop started as part of daytime activities. The bread is currently distributed during the night watch.
HOUSING FIRST
– A RADICAL MODEL TO FULLY SUPPORT THE HOMELESS –
The foremost concept of "Housing First" is to support those who have lost their home and to secure housing where they can live safely. The Housing First system began in the United States in the 1990s and today has extended to Europe where support to the homeless has also become a common approach. The program has been proven to be particularly beneficial in assisting those with serious mental disabilities.
In Japan, there is a common perception that "the homeless and those with mental disabilities are unable to live amongst others in society and that they need a transition period before being able to be independent and have their own housing". Based on this concept a graduated system was devised where one is admitted to a shelter, a psychiatric clinic or a group home to receive treatment to prepare for societal reintegration. Once this step is complete the individual is then permitted to look for housing. However, many individuals are unable to proceed with the graduated "staircase" process to secure housing and end up dropping out of the process, then back on to the streets. This has become an increasing issue.
The Housing First support model approaches the homeless issue by advocating provision of housing without preconditions and to provide support to the individuals through coordinated efforts amongst the team consists of psychiatrists, nurses, social workers, peer workers, and communities. Furthermore, survey results have shown that the Housing First support model lessens the financial costs to society.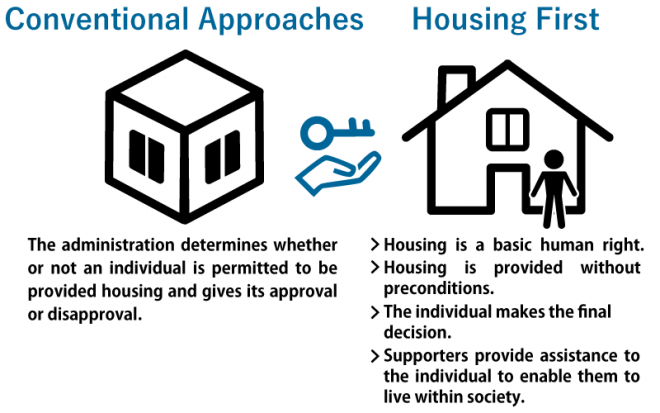 THE GUIDING PRINCIPLES OF HOUSING FIRST


Housing is a basic human right
Respect and empathy to all users
User's choice and self- determination
Build a trusted relationship between users and supporters
Independent housing in different areas
Differentiate support between housing and non-housing matters
Recovery orientation
Harm reduction
First, the individual alone decides area where to live in and then looks for housing. Their decision is not based on rules determined by others. The individual will live as a community member in their desired neighbourhood at their own pace and lifestyle. Supporters will assist the user in their endeavour.
By prioritizing housing as the start of one's journey rather than the end goal the individual's path to recovery becomes an attainable reality. "Housing First Tokyo Project" aims to create a community where no one will succumb to homelessness through the adopting the Housing First model.