Rohingya Youth tells about its past, present and future.
-For Refugee Day 2020, here is what we want to convey to those who are not here-
19 years old refugee named Jonnat

This article, based on an interview conducted in March 2020, was originally written at a Rohingya refugee camp in the outskirts of the Cox's Bazar, Bangladesh. At the time, no infection of the new coronavirus was yet confirmed in the camp. To mark the World Refugee Day 2020 we handed a young Rohingya man, a camera and asked him to express what he wanted to convey in his own words and photos.
Here is the testimony of a young Rohingya woman who has no choice of where to live, no freedom of movement, and no access either to education, or to medical care. It is the testimony of voices that have been kept silent for a long time.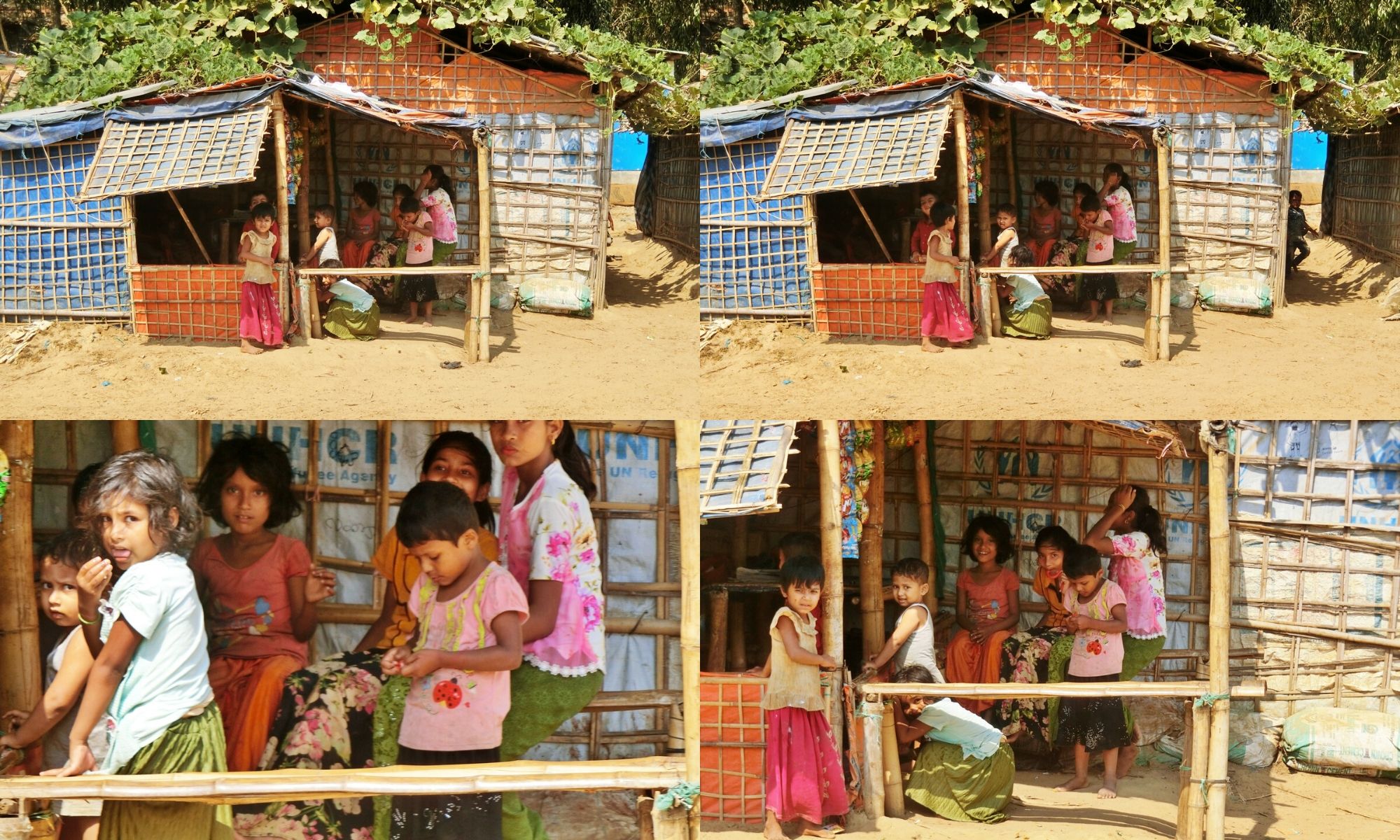 ©MdM Japan
A young Rohingya woman speaks about her uncertain future, she has been living in a refugee camp for over 2 years, she does not go out in public and it is the first time she has the opportunity to break the silence:
---
"We, Rohingya, are a minority ethnic group who have lived in Rakhine State, Myanmar for many years. The Myanmar government has been denying our rights and has been persecuting us. Following the massive armed conflict that took place on August 25, 2017, I evacuated to Bangladesh to seek asylum. It's been three years since then, people live in a harsh conditions and in an overcrowded camp."

I came to Bangladesh with 6 family members, we are from a village located in Buthidaung Township in Myanmar. The 7 of us live cramped in a tiny hut that doesn't even have a sleeping area.
My day begins with getting up at 5am and exercising for 20 minutes.
After that, we do the first prayer of the day (Salat = ritual Muslim prayer), then I assist my mother in making breakfast, and at 9:20am I am heading to work (volunteer work). I get back home at 16:00 and study in the evening.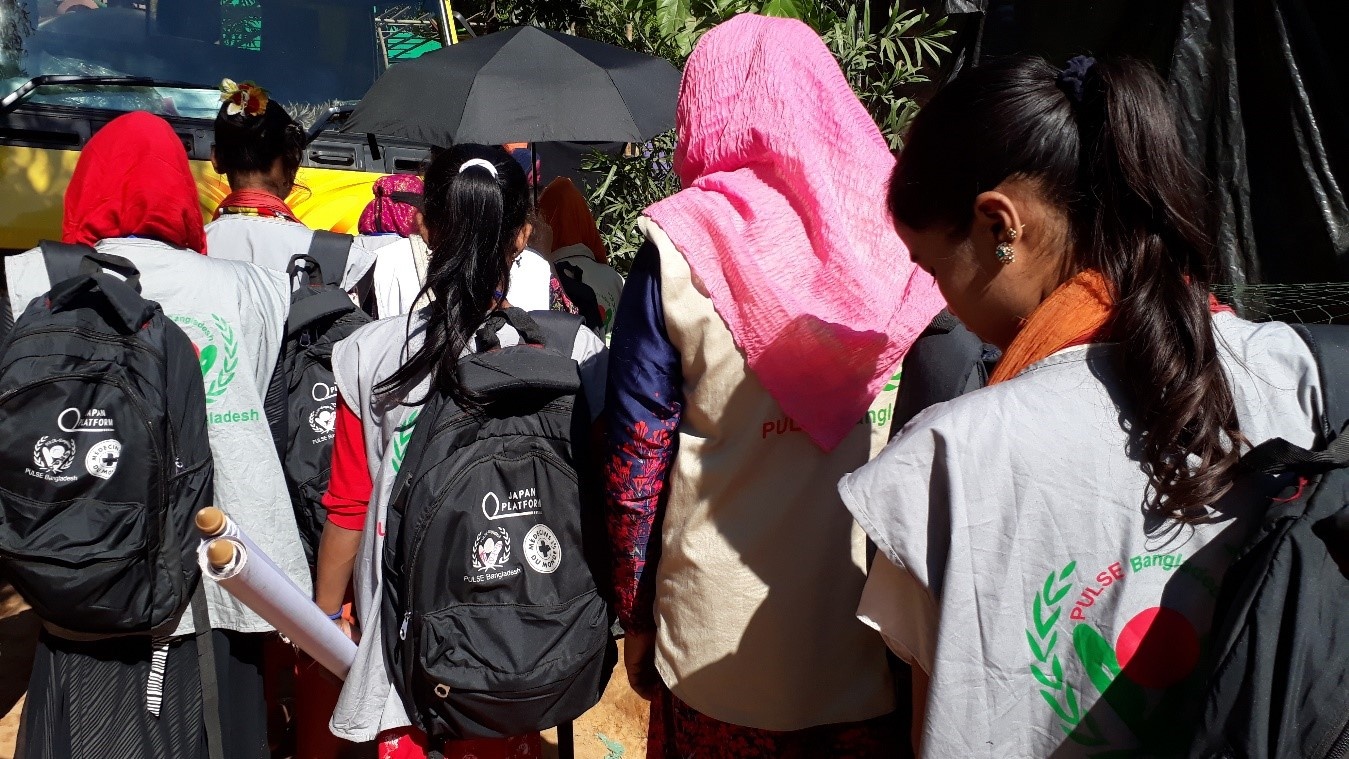 ©MdM Japan
"If you are born human, you need education."
When I was in Myanmar, I was a student and attended high school. I was forced to evacuate due to violence, and I could not finish the 9th grade, let alone graduation.

In Myanmar, Rohingya and Muslims were not allowed to receive higher education. Not only that, but many other things were restricted, for instance we didn't have freedom of movement.

The camps have playgrounds and learning centers for children run by support groups, but those facilities are not suitable for our age. Like me, many Rohingya spend almost three years in camp without being educated.

I am still young and single. However, I cannot get education, especially higher education, even at the camp. Here too, we face challenges after challenges, struggling for education and for our rights.
Refugee life continues in refugee camp
When it is hot, it gets very hot here. It is too hot to stay in the hut. And if it rains, floods, strong winds, and landslides will occur.

Since May 2019, I have been working as a volunteer for MdM Japan (Médecins du Monde Japan). My role is to engage in outreach activities and go around the designated places. Outreaching all the designated places is difficult, but it is a task that gives you a sense of mission, it gives you a purpose. I don't hate my mission, but at the end of the day when I am exhausted I have to return to an empty shelter, where even resting is difficult.

I am a refugee and I live in a refugee camp. Sometimes it's hard to remember the dreams I use to have as a child.

As a MdM Japan volunteer youth educator, I receive training and education on diverse health and community topics such as: GBV (Sex Based Violence), SRH (Sex and Reproductive Health), Mental Health, Nutrition, Family Planning, Maternal and Child Health, Diarrhea and Dehydration, Safe Water, Hygiene, STI (Sexual Infection) , HIV, ARI (Acute Respiratory Infection), Malaria and Dengue, Health Education, First Aid and more. I feel very grateful to have had this opportunity to learn.

WFP (World Food Program) distributes rice, dal beans and cooking oil, but it is not enough. Many refugees are unable to go out and work and suffer for their survival.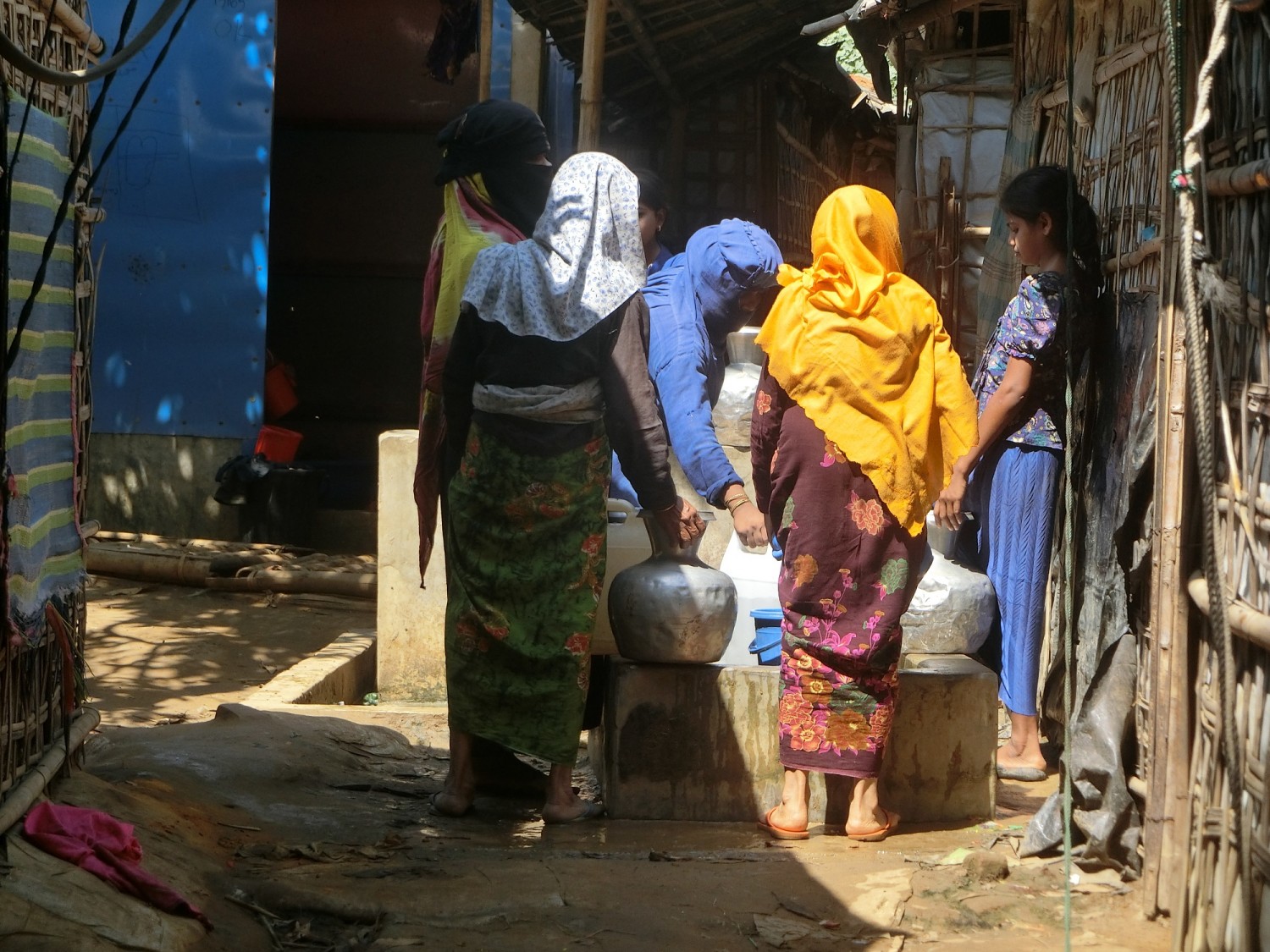 ©MdM Japan
I'm always scared
Toilets are far away from our hut and it is not safe in the camp. Until now, several women have been kidnapped and not yet found.

The violence and tragedy that took place on August 25, 2017 left a deep scar on our hearts. I still don't really know what is happening to me. We can see physical damage, but the pain, despair and sorrow we felt in our hearts is invisible to the eye. Many women and girls were raped. Many villagers, children and relatives have been killed by the army. A fire was set in the village, and most of the buildings were destroyed. My brother, grandfather, and cousin died in a shootout. The house where I lived was also burned by the army and Rakhine people. Realizing that for our safety, we should not be there anymore, packing a few days' worth of foods, we started walking towards Bangladesh. Ten days after we left, we finished all the food we had brought. Along the way, it rained heavily and I was hungry… I saw many dead bodies in the forest. After 21 days, I finally reached the bank of the Naf River and crossed the river with a rowing boat.

We arrived on the Bangladesh side but were not allowed to enter the country. We had nothing: no food no clothes, no money but some local Bangladeshis offered my family food and gave us shirts. Also, I was able to receive treatment at the hospital. There are no words of gratitude to the Government and the people of Bangladesh.

After all, I stayed at the border for almost a month and then came to this camp where I am now.
Once again, locked in a prison but this time without a roof
Camps are full of problems such as no education, internet access restrictions, travel restrictions, cramped living places and not enough medical facilities. In addition, fences were installed around the camp, just as they were in Myanmar.

We need support from INGOs such as MdM and Pulse, we hope for improvement and that higher education will be provided, restrictions on movement will be removed, living conditions and medical access will be improved, and people will be able to live with peace of mind.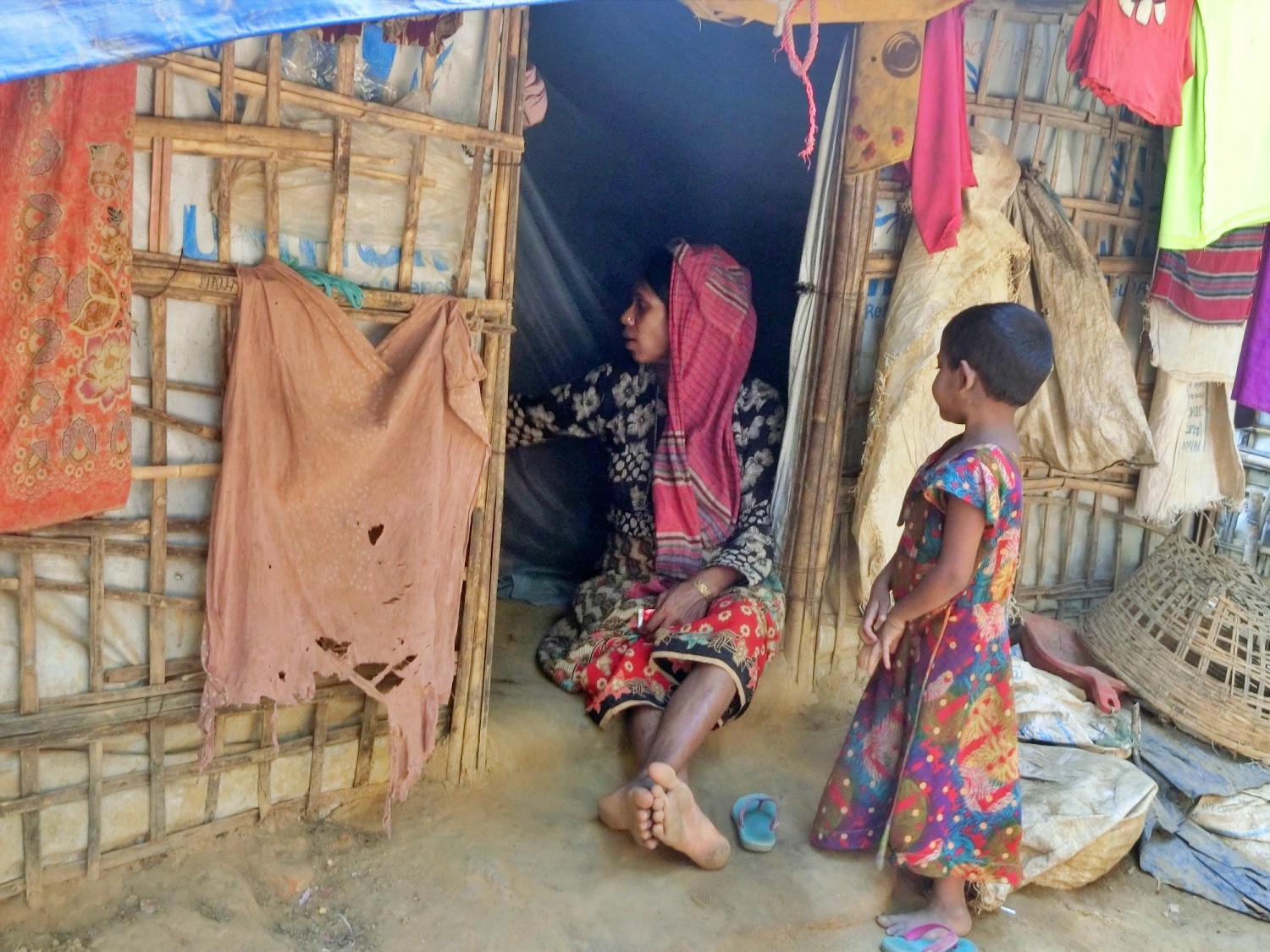 ©MdM Japan
From now on I want to think about the future
My activities with MdM Japan and PULSE Bangladesh are also useful for the community, and I would like them to continue their activities in the future, and to continue being involved in them.

We, Rohingya, want justice to be made, to regain citizenship and return to Myanmar.
I don't want to live as a refugee without any guarantee of life.

In the future, I want to be educated and become a doctor.

As a young woman I am very happy and grateful that I was able to play a role.
Coverage cooperation: Mr. Saad