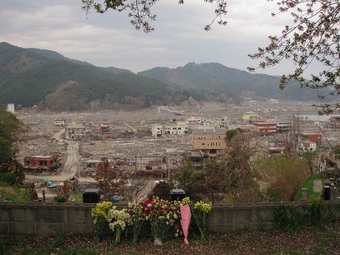 Due to a request from the Mental Health and Welfare center in Iwate Prefecture, it has been decided that the Doctors of the World emotional and psychological care team will continue its activities in Ohtsuchi until March 2012. Ongoing assessments will be made as to whether the relief team will still be needed from April 2012 on. Doctors of the World remains committed to take part in the relief effort, working toward the restoration of the area and offering support to those trying to stand once again on their own two feet.

It is now almost 4 months since the devastating earthquake, tsunami and ensuing fires ripped along the Pacific coast of Japan, destroying much that was in their path.

Recently in Ohtsuchi, where Doctors of the World has dispatched its emotional and psychological care team, heaps upon heaps of rubble have been removed and the pothole-ridden asphalt is slowly being repaired. Ohtsuchi Prefectural Hospital was completely flooded up to its second floor, which rendered the building totally unfit for use, but at the end of June a temporary, prefab structure of Norwegian design was completed and the hospital is once again able to accept patients. The hurried construction of more than 2000 temporary houses continues on a daily basis and is due to be completed by the end of July.

Any local residents that wish to will then be able to move in to a new home of their own. The town mayor who stayed behind to lead the response to the disaster sadly gave his last breath trying to help his fellow townspeople. An election to appoint a new town mayor will take place in mid August.

Since April we have mainly been visiting evacuation centers. From now on, we also intend to visit those who choose to move in to the new houses currently being built, and establish a "Disaster-related Stress Counseling Center" with the cooperation of Ohtsuchi and the Kamaishi Healthcare Center.

An entire section of the pine wood lining the beautiful coast of Ohtsuchi was completely washed away in the tsunami, but the strength and resolve of the local people to restore their town remains firmly rooted. People are moving forward, one step at a time, in their journeys back toward normal life.

"What can I do to help them?"

This question is constantly on my mind as the Doctors of the World emotional and psychological care team carries out its activities each day in Ohtsuchi. Since we have now received confirmation that these activities will be able to continue until next year, we promise once again to focus on the needs of the disaster area as they change on a daily basis and to do all we can to provide effective support to the people of the area.