What does "self-sustainable community" mean?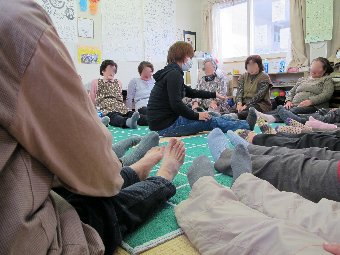 MdM's intention is to help local residents recover resilience that the community had nursed since before the disaster..
Therefore, through each activity including medical practice, consultation, and instruction of exercise and relaxation, we aim to leave the concept as well as the technique of "Self Care" with people. Every time when we work on the field, we encounter their memory of the disaster, their life experience long before the disaster, and strong mind or curiousness. We are contemplating how to take these in town development from now on.
Otsuchi was so badly affected by the disaster that it was not easy to get back to ordinary life soon. That's why we engage in the project of this area. Our role is to support realizing the ideas emerged from local people by providing resources in shortage. We are looking at anew Otsuchi which nobody has yet seen. We try to face sincerely the people's memory of the town that they long. However, we do not aim to restore same look of previous Otsuchi.
Our exercise team re-launched in the beginning of 2012. This half a year was period of self-questioning. We seamlessly look for how to contribute to build self-sustainable system that can be managed by local people.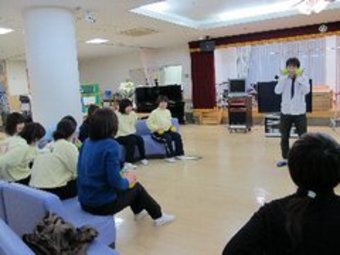 27 to 29 January, 2012

This time, we introduced several new activities, such as exercise program in "Ochakko Tea Party", exercise instruction for care facility workers at night after their busy time, and massage & relaxation session for local residents. All these activities contribute to let participants realize importance of exercise. The direction of our activities seems finally set in a clear way. At the same time, we started to feel pressed that there should be more residents we have not met despite our hope to fully respond to all of them.
Additionally, the activity aimed for residents in their own house (often somehow damaged by the tsunami) also started. They could live in their house, however, many of them still need support. We want to improve the content of our exercise programs, meanwhile such activities also have to match up with the need of all counterparts besides residents affected by the disaster.


3 to 5 February, 2012

This time, we had an impression that participants are gradually increasing. Increased participants from the partner organization, Otsuchi Council for Social Welfare has dominantly contributed to this change in such a way that they deliver brochure house to house. During the exercise program, we felt the sense of unity with them.
Also, this time we divided the exercise team into two separate groups on trial, and started the exercise program in Ochakko Tea Party hosted by Tono Magokoro Net. Through new modes like this, we may increase the activity area. We'd like to continue working through trial and error so as to make the program would be sustained locally, and many people will value the importance of exercising both for mind and body.


17 to 19 February, 2012

We sometimes doubt if our support is really reaching to those who aspire for it, meantime seeking the best of what we can with limited resources and ability. This time, we opened the lecture based on demand from a new district. We have similar requests from other districts as well. Our programs seem expanding and spreading into the local networks. Moreover, Otsuchi Council for Social Welfare which has held the exercise program began to act as trainers. It is a wonderful collaboration. We will continue to device ways to encourage more people to understand the concept of 'Self-care'.


9 to 10 March, 2012

This time, we had a session for workers of Otsuchi Council for Social Welfare to learn the way to use balls during exercise. In the session, one of the workers said that he had found a new way to utilize the balls. We were very happy to see the workers' ability to develop the new method. The members of exercise team are all wishing to contribute to self-sustainable efforts developed from exercise program for short-term mental care. We have been anxious if our activity has positive effect on their independence, we felt a little relieved to see the little steps forward. We'd like to continue the project,sharing the little happiness that encourages us to keep going.


23 to 25 March, 2012

We went walking outside for the first time since the launch of the program. We visited to pray the Jizo on the hill, and took pictures there. Everyone had invigorating smile. Before then, we mainly worked inside of the rooms due to the cold weather and consideration for not to show residents the drastically damaged town. We'd like to create opportunities to go outside little by little, and breathe some flesh air while understanding well the residents' reluctance to go out.
Furthermore, during the conversation with some of Otsuchi Council for Social Welfare's staffs, we shared the thoughts that it is ideal that residents themselves will organize the exercising program in the future. In some area, there is voice for fostering local leaders who manage the programs. We will continue to have dialogue like this, and develop better exercise programs with a view of community development.


6 to 8 April, 2012

This week, three new members joined our program. Two of them are living in Iwate Prefecture. We hope many people will contribute to the project to allow the exercise program to take root in local society. Program workers need to show their originality while sharing the same concept between other workers. What we should do and what should not is our constant question for residents to foster their effort to find their ability to care their own mental and physical condition.
Also, we felt that the workers living nearby the community understand the feeling of residents better than us coming and back to/from Tokyo. It will be quite beneficial if we can share the idea from many people both around the affected area and distant area.

Hiromi SENSUI, Yuko KAI
Exercise team, MdM Japon
Researchers of Physical Fitness Research Institute, Meiji Yasuda Life Foundation of Health and Welfare