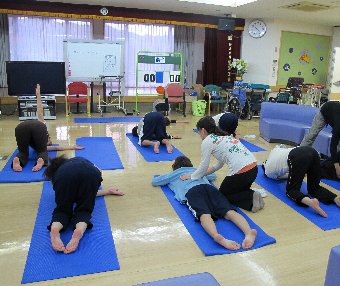 In February 2012, Hot Yoga Studio LAVA("LAVA") offered their help to Medecins de Monde in a way that members of LAVA would donate, and if necessary, they would consider to take the volunteer Yoga instructors to Otsuchi. This suggestion was because a staff of LAVA saw the activities of physical team (Meiji Yasuda Life Foundation Of Health and Welfare), which cared for emotional and spiritual needs through physical exercise. After coming along to have look at our activities in the affected area two times and discussion with us, they started Yoga lesson for staffs of a hospital in Otsuchi with MdM once a month from August for six months.

We hope that people throw off their own prejudices like thatthey cannot do Yoga without professional trainers so that they find their own ways of doing selfcare.

After the disaster, ways of living in the areas are restricted by something that did not exist before. They would limit their ways of thinking and doing without consciousness. Relaxing their bodies makes them feel better. Fresh mind will help to change how they see their day-to-day lives.

Three members who visited a hospital first time gave close attention to communications with staffs of the hospital. The trainer, Ms. Maji, reviewed the lesson following;

" (Before we started my yoga lesson,) thought of what we could do for them roamed around in my head , if it would be appreciated by them or how we should communicate them."

" (After the lesson,) even it was just only for one hour, we had a nice long talk and could foster trust. And atmosphere became really good and warm. It was good time for me that I could recognize important thing I cherish.

Trainers as well as participants returned to their starting line. Using Ms Maji's phrase, "In fact, it is important for me to simply remain who I am."

It was impressive that smiles on the faces of the nurses and engineers who went back to their work wiping their sweat made the atmosphere of the hospital brighter.