Doctors of the World in Mali: while fighting intensifies, we stand alongside the people of Mali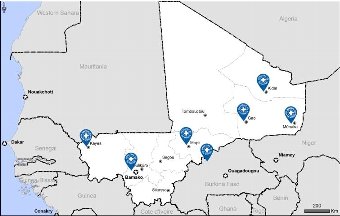 The situation in northern Mali, as in the whole country, has deteriorated sharply in recent days, with the resumption of hostilities and bombing of several localities. The teams of Doctors of the World wish to stand alongside the people despite the more difficult working conditions.

The NGO Doctors of the World has been active for several years in the regions of Gao, Kidal, Mopti and Kayes, where it provides healthcare to the population in several health facilities and two hospitals. In the two northern regions, aerial bombardments have been reported, but our teams on the ground remain active.

In Kidal, where Doctors of the World is one of the few medical NGOs present since the beginning of the crisis a year ago, the situation is very tense. DoW has placed visibility elements on the roofs of offices, warehouses and houses to prevent possible air strikes.

Olivier Vandecasteele, Head of activities in Mali for DoW Belgium explains: "the food crisis and the collapse of the health system as a result of the conflict have been weakening the populations for a year. The intensification of the conflict and the population movements it causes are aggravating the situation. These highly vulnerable populations are fleeing. Beyond war casualties, it is imperative to be able to ensure common healthcare, care for malnourished children and support for pregnant women, from pregnancy to childbirth."

In this changing context, Doctors of the World is planning a strengthening of mobile teams to ensure access to healthcare for these dispersed populations. In the region of Mopti, where recent fighting has occurred, DoW is preparing to ensure access to healthcare to displaced or isolated populations.

Because it is essential to ensure continuity of care for the population, we urge the parties to the conflict to respect the work of humanitarian teams and the integrity of health facilities. All actors in the conflict must limit the effects of the war on civilians, the wounded and medical facilities and personnel.

Doctors of the World reaffirms that its interventions are impartial and independent. They cater to all vulnerable populations in the region. This is why we ask that access of humanitarian stakeholders be respected throughout the country.