East Great Earthquake Fukushima Sou-Sou project report 11.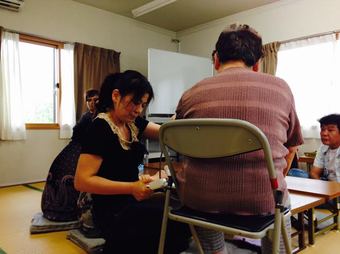 Here, Ms. Masuda, a nurse taking charge of mental care at the Soma office of "Soma wide-area mental care center Nagomi" which we are engaging with, makes a report as below.

———————————

I am a volunteer nurse participating in the salon activities held at temporary housing in Soma city. The activities are operated by MDM together with "Soma wide-area mental care center Nagomi." I serve tea, listen to them, and play with them in ball exercises, folding papers, a word association game, etc. Sometimes, we make pancakes together. Of course, I measure their blood pressure and pulse, and also, give advices on health issues.

Some people complain of sleeplessness or anorexia effected by their physical deconditioning the disaster caused. Some have a headache every day since the disaster. Even now, 4 years after the disaster. After having a hard time to fall asleep, some have nightmares of Tsunami, or wake up early in the morning. Some have no appetite. The damage caused by the disaster has impacted greatly on them mentally and physically.

Whenever we eat pancake, etc. together, I hear someone says "It tastes wonderful if we eat together." Most of them lost their family, and all familiar things including their house belonging to them were gone with the Tsunami in a moment. They were forced to change their whole life-style.

Once, I was surprised to see a person who was always complaining of anorexia ate 2 pieces of pancake. I am sure the relaxing circumstance of the center being with other victims and the staff members gave him/her a good appetite. One's heart is healed being involved with others. Everybody says the living hours have been changed, and so, they are not preparing Osechi, special dishes for New Year, any more, as all the kitchen utensils they had were gone, too.

Temporary housing are made just for "temporal use." The rooms are too tight to store the things. They can possess the minimum daily necessities only. The house has no entrance. It is hot in summer, and cold in winter inside the house. No shops around the dwellings. For the ages, it is really difficult to lead a life. Bus service to bring them to hospitals is limited, too. They have to wait long hours for the bus. Indeed, they are forced to live an inconvenient life.

A lot of fishermen reside in Soma city. Their wives also work at the port after the fishermen come back from fishing. Everybody wants to work. Even if they buy a fishing boat with the compensation money, they cannot go fishing as they did before the disaster. The fishing industry in Soma is restricted, and they cannot get a good catch any more. Fukushima prefecture has a special problem like this comparing with the other prefectures in Tohoku. The disaster is still impacting on Fukushima continuously.

Root 6, a road passing near the nuclear plant, was completely open in September. You can enter the restricted area by car, if you keep all the windows closed, but no bikes or pedestrians are allowed to use that part of the road. All the streets led to the Root 6 are barricaded to prohibit turning right or left. I drove through the road in November to find some rundown shops including 24 hour shops. The inside of these shops all looked unchanged, but there were no people to visit the shops. I felt just the stuffy atmosphere there. A number of signs telling "Watch out wild boars and cows!" are seen everywhere. The area is that ruined.

I cannot bear when I sympathize with the local people who had to leave their home town due to the nuclear accident that was producing electricity for the people living far away. I hope the restriction on the area will be removed as soon as possible so that everybody can go back to the life. We should not forget Fukushima. Keep thinking of Fukushima is most important. I will be there to be with these victims, listening to them, and ease their mind.

Nurse Rika Masuda

* "Live together fund" offered by Japan Platform helps us to carry out a lot of our projects.