East Japan Great Earthquake: Fukushima Sou-Sou District Medical Project Activity Report 12

The Report consists of two parts, of which presented hereunder is the first part, reported by Yayoi Yokouchi, Clinical Psychotherapist.
———————————

Photos: as seen from the above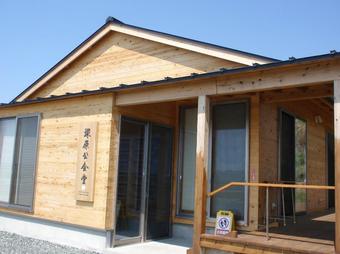 1. New Town Hall ready to open for the return of evacuees (May 2015)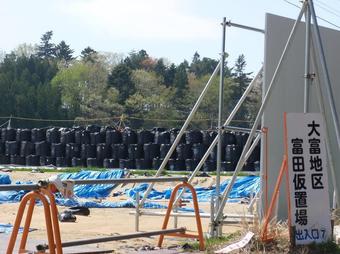 2. Temporary Storage Site of contaminated soil at Ootomi district, Minami Soma City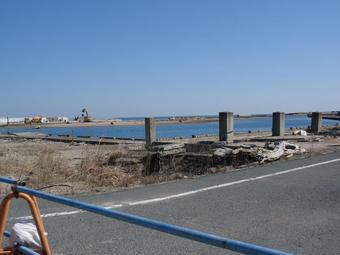 3. Ukedo Fishing Port under construction (Namie-machi, March 2015)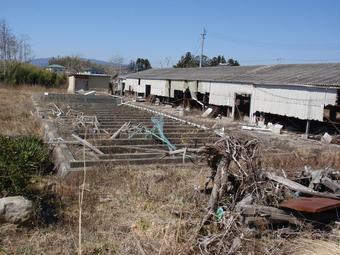 4. Izumidagawa Hatchery of the Fisherman's Cooperative in Namie-machi is left in rubble, intact, as it was since the day stricken by Tsunami (March 2015)

Minami Soma-Shi (South Soma-city) : Amid Widening Disparity. . . Minami Soma City is one of the areas seriously affected by complex disasters of the 2011 East Japan Great Earthquake, and its recovery and reconstruction process varies by locality as well as by demographic composition. Increase of elderly single population, harsh living conditions of the disabled, widespread alcohol dependency, separated families, and a number of pre-quake issues that remain unsolved to this date, all these problems, overlapping one another, weigh heavily on people's shoulders as time goes by. There are people who, having overcome a sense of loss, step out into a new life with courage and hope, while on the other hand there are people who, devastated by the loss, are yet unable to find an exit to take a first step out. This widening gap is called "Scissors-shaped Disparity" named after its resemblance to the blades of a pair of open scissors.

Under such circumstances, I am deeply concerned about heavy burdens shouldered by those who are tasked with providing public services, as well as by those tireless staff of Mental Clinic "Nagomi", our local counterpart. Many of them are victims themselves or have families affected by the disaster. Some of them have experienced a forced evacuation temporarily. In the fifth year since the Great Earthquake, urgency of the need for assistance still remains crucial for the suffering community. For the community residents, Municipal Office and Healthcare Center are a safe and reliable refuge to resort to, capable to help relieve their daily concerns and problems. Naturally, they receive enormous number of requests for counseling and for "MIMAMORI"(occasional visit to avoid isolation). In order to respond such multiplying needs, municipal employees and aid workers spare no pains to work over an extended period of time. Throughout the post-quake days they keep working without having even a few days-off, willing to tackle stressful tasks day in and day out, and with smiles. I am deeply impressed and am so respectful to them that I cannot help but pray for them, "May their health and strength be upheld during this difficult time!"

NAGOMI's Minami Soma team also receives endless requests for assistance and "MIMAMORI".not only from individuals but also from the healthcare centers in Namie-machi, Futaba-machi and Minami Soma City. I would like to emphasize therefore the importance of systematic support intended to ease the strain of aid workers. In this respect, MdM's mental healthcare program is expected to play a key role in enhancing the support activity.

The damage caused by 3.11 Tsunami made it difficult to continue living in the coastal area of Minami Soma City. Many of the disaster victims were forced to relocate and to start a new life in the refuge center built under the Restoration Housing Plan. The "MIMAMORI". for surviving families in Kashima-Ku(district) has passed its peak and the watch-and-protect activities are being downsized progressively. While in Odaka-Ku, located within a 20-kilometer radius from the Fukushima No.1 Nuclear Plant, people are still restricted from staying overnight at their evacuated home but are only allowed to return during daytime. Many houses are left uncared-for without repair, let alone demolish them. As a consequence, most families are unable to make up their mind where to live and how to make a living.

Majority of the residents living in a provisional housing are preparing themselves to return to their evacuated house upon lifting of the Evacuation Order expected sometime in 2016. Convenience-stores and hospitals are already open during daytime. A new town hall has been completed, and ready to open for the community people to organize a social gathering with the help of outreach-activity groups like Nagomi. On the other hand, there are people who are still distressed psychologically and financially unable to visualize their future life, which presumably is due to a lack of knowledge on how to apply or receive health benefits and compensations.

Decontamination operation is taking place, though at a slow pace, covering the whole area of Minami Soma City. However, there are still places where the radiation dose rates both air and ground remain high, not only inside the 20-kilometer radius but also outside as well. For mothers living around the nuclear power plant, children's health risks from eating polluted foods or from playing on a playground containing contaminated soil, are a major concern. Before the nuclear accident, children used to enjoy outdoor life picking edible plants and nuts, but now it is out of the question, sigh mothers sadly.

In Minami-Soma City, there are evacuees fleeing from Futaba-Machi where the Nuclear Power Plant I is located, and also from a nearby town, Namie-Machi. Relatively young families are more likely to relocate to urban areas (Fukushima-City, Iwaki-City, Nihonmatsu-City, and cities outside Fukushima Prefecture). On the other hand, older people choose to stay in Minami-Soma City and live in a community-funded provisional house or a leased private-sector housing. As a result, a number of elderly people develop a sense of isolation and loneliness because of their separation from children and grandchildren. In the case of Namie-machi, there exists a zone in preparation for the lifting of Evacuation Order, where recovery works such as clean-up of tsunami debris and overhaul of the Ukedo fishing port are already under way. But in other part of Namie-machi, there still remain the Restricted Habitation Zone as well as the "difficult-to-return zone" which is inaccessible without wearing protective garments against high-dose radiation.

(*)Soma Wide-Area Mental Healthcare Center NAGOMI

* A greater part of this mental healthcare activity is funded by the "Live-Together Fund" of Japan Platform.