East Japan Great Earthquake:
Fukushima Sou-Sou District Medical Project Report 14- Sunflowers Growing in Iitate-Mura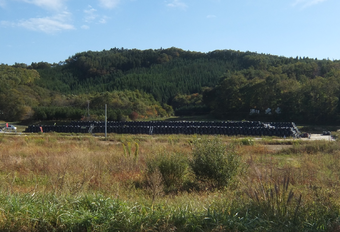 When we visit Minami Soma City located in our activity area, we often take a road passing through a village called Iitate-Mura, which is about an hour and forty minutes' drive from Fukushima.
In mid-October, when driving through the village as usual, we came across an eye-catching sight of a brilliant yellow carpet of sunflowers unseasonably blooming along the roadside, as photographed in a picture below.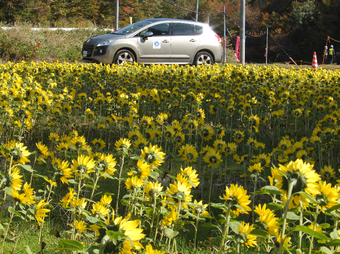 Later we found out that sunflower seeds were planted in August this summer on the decontaminated two-hectare farm land in Nimaibashi District of Iitate-Mura by the local members of Farmers Reconstruction Activity Union, in order to improve soil quality, and to recover fertility of the land that has been left barren and uncared-for since the Fukushima nuclear disaster. Sunflower seeds had been planted three years earlier than this time, in the attempt to clean up nuclear pollutants in the soil, following the lesson from Chernobyl nuclear meltdown accident. Despite people's anticipation, it is said to have ended in a futile attempt without proving effective enough to absorb toxic radiation. Once again, however, the villagers have turned their eyes to a field of brilliant sunflowers growing tall and straight, hoping to provide nutriment for their farm with the help of Mother Nature.

Iitate-Mura is a mountain village to the north of Abukuma Highland, rich in natural beauty with a population of 6,200, earning most of livelihood from agriculture and cattle breeding (known as Iitate Beef). Due to the disabled Fukushima Daiichi Nuclear Power Plants, today the village is divided in three restricted zones, "Evacuation Order Release Preparation Area", "Restricted Habitation Area", and "Difficult-to-Return Area", and the villagers are not yet permitted to live anywhere of the three zones. The Government is accelerating the decontamination process so that the evacuees could return home from April 2017 onward.

Despite the government's efforts, radiation dose both aerial and ground level remains significantly high and the decontamination target still covers a vast area, urging further deployment of sufficient cleanup works. Meanwhile, the radioactive wastes are piling up on the field more than ever in the storage facility, as seen in the photo below. We nevertheless cannot help but look forward to a better tomorrow when everyone can get back to the peaceful life again at their good old house in a friendly environment where nature benefits peoples.
Sunflowers are known for a flower language "Adoration" or "I adore you forever." It is not surprising that the sun-like appearance of sunflowers, bright and cheery, has been and always is bringing energy and joy to the villagers' heart and soul no matter where they live.

Written by Koichi Tamate, Project Coordinator, East Japan Great Earthquake.

*A greater part of this program is funded by the "Live-Together" Fund of Japan Platform.