The East Japan Great Earthquake : Activity Report No.16 at Fukushima So-So Area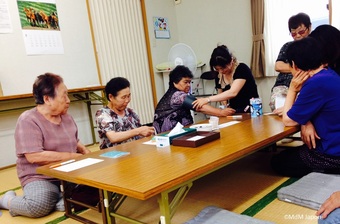 This time, we report Rika Masuda who is nurse, she continued work cocoro-no-care activity in Soma City, Fukushima Prefecture.

I am a volunteer nurse participating in the salon activities held at temporary housing and door-to-door visit with Nagomi.
Today the "Salon" program implemented by Nagomi is taking place at two different places, one at Ohno-dai No. 6th temporary housing where most of residents have been relocated from Iidate-mura village, and another at the Community Hall located in the restoration housing which was built after the earthquake.

" Return-Home Permission of Iitate-mura" is said to be due sometime during March 2017. At present, 136 households with the population 254 are being housed in No. 6th temporary housing compounds. Those who are ready for the day of return, those who hesitate to return because of unwillingness or of refusal by mostly young family members, and/or those who are yet undecided because of their concerns progress of decontamination in their home town. They have mixed feelings.

There is no guarantee that shops, banks, post office, hospitals, and other facilities are restored back the way they were. What's more, mountains of black "fle-con" bags (flexible container) filled with polluted soil are left untreated here and there within visible distances. Under these circumstances, inconvenience will be forced in daily life.

"Karishikita" residents of the restoration housing are originally from Soma City, where the majority has lived primarily by fishing. However, contaminated sea by tsunami and many are said to have lost not only jobs but also reason for living.

When half a year later, they had mushroom hunting and to examine the radiation test, the Inspector said, "it's not fit for sale but self-consumption is OK" It's that.    Who would dare eat what is unfit for selling! Ever since, they discontinued mushroom-hunting, one of his pleasures. Everybody says that life has dramatically changed since THAT DAY.

April 2016, Kumamoto Prefecture was hit by a massive earthquake. People living in Soma-city expressed sympathy and shared victims' pain as if it were their own. At the same time, they seemed somewhat disturbed by the mixed feelings of fear and loneliness that their suffering would be forgotten ever existed.

Salon Activity is routine checkup of blood pressure and pulse, updates of physical/mental condition, ORIGAMI paper folding, cake making, and occasional game-playing, and all participants are apparently enjoying every activity. I realized that I have a role, such as create opportunities for their rebuilt the life, thereby to help them keep themselves healthier and livelier.

A door-to-door visit is intended mostly for male alcohol addicts of older age. Loss of a loved one and/or isolation from children led them drink more and more and developed alcohol dependency over the years. Excessive intake of alcohol causes dementia, malnutrition, followed by insufficient physical activity risking difficulty or disability of walking.

Unlike women, men have no or a few to talk with and are not as talkative as women are. But I can sense how much my visit is awaited by them and how important it is to keep good fellowship with them. By sharing a sense of togetherness, we can develop a trustful relationship more than words can convey. My hope is that our relationship will provide them a secure motivation to live positively and actively.