It's almost four years since we started our program at the refugee camp where the Rohingya live. Activities continue despite being affected by natural disasters, security conditions, and communicable diseases such as COVID-19.
From activities related to primary medical care to disaster prevention education and communicable disease prevention, staff and volunteers from the host community and Rohingya volunteers have been working together with us.
Programs that started with health education now include fostering mutual assistance among people and helping clinic staff improve their skills.
A glimpse of the field through our current activities.


Sharing knowledge to prevent non-communicable diseases (NCDs) such as hypertension, diabetes and chronic respiratory illness
Using visual support, leaflet etc., Rohingya volunteers visit people door-to-door to provide information and tips on how to stay healthy with proper physical exercise and avoiding too much sugar intake.

Family member supporters gathered to discuss how tobacco product use as well as oil and salt overuse can lead to NCDs.
→They reviewed high-risk eating habits and decided to encourage their families to reduce the amount and frequency of intake to a reasonable level!
Training clinic staff
In addition to providing health education to people in the host community, we also conduct training on the proper use and maintenance of materials and equipment provided to clinic staff to help strengthen their knowledge about NCDs, proper screening and referral of patients.
Every effort may be a small step. However, to help Rohingya people become conscious about their right to health and lead a life in which this right is respected, we continue to work with them.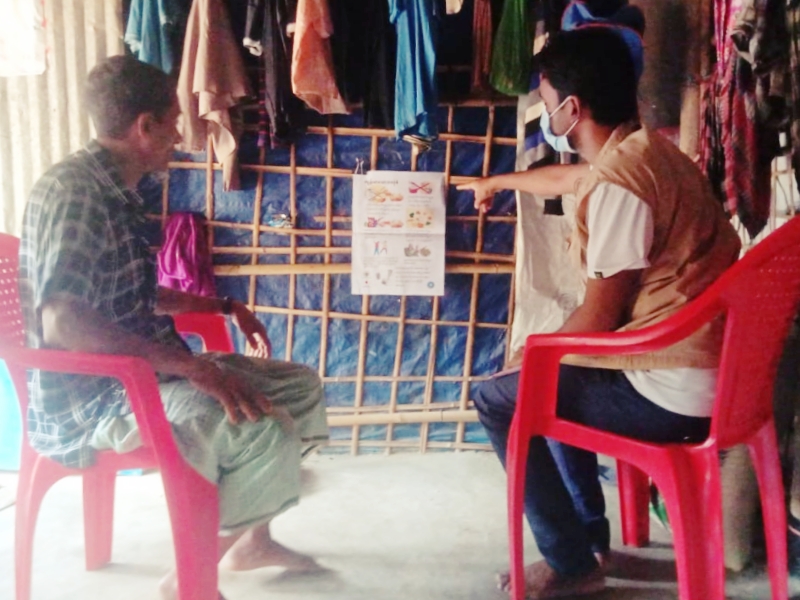 ©MdM Japan