Médecins du Monde Japan (MdM Japan, President: Gael Austin) is now present in Bangladesh in the refugee camp where Rohingya live (hereafter Rohingya). A project was implemented to strengthen the resilience of communities to health and sanitation problems, as well as the countermeasures in the event of disasters.

Following the armed conflict that occurred on August 25th, 2017, more than 700,000 Muslim ethnic minority Rohingya living in Rakhine State in Myanmar crossed the border, most of which flowed into refugee camps in Bangladesh, Cox Bazar area.
Because of the scale and speed of the influx of people, the conditions in the camp remain unacceptable for both the host institution and the host community, the camp is overcrowded, with poor hygiene and malnutrition due to food shortage, many residents are exposed to health risks including infectious diseases. Also, during rainy season and cyclones, heavy rains, floods, strong winds and landslide are frequent, which causes a lot of damage on the human and environmental levels. Measures and response to the occurrence and expansion of infections via water and pathogenic organisms are also ongoing challenges. Many camp residents suffer trauma from the persecution they experienced as well as stress due to prolonged camp life. The necessity for mental care is increasing even a year after the mass exodus. Meanwhile, the returning process to Myanmar is not yet conceivable, it is expected that the life in the camp will be prolonged further, as repatriation negotiation has stalled. From December 2017, MdM Japan contributed in connecting people whose access to primary healthcare services at their clinic is restricted, especially children, pregnant and lactating women, and the elderly people, through outreach activities.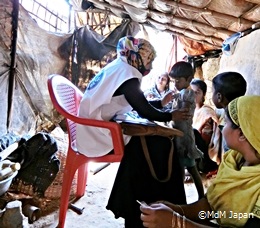 As a result, 60% of the persons to be supported received medical treatment, however it was also found that people take their stress out on women and children, who are the most vulnerable, their physical and psychological health is largely dependent on the influence of the dominant people in their families, who are the decision makers. Regarding young people aged 14-17, access to education and employment opportunities being extremely restricted, probability to get victim of crime is high, another confirmation of mental health's needs.

As new needs are confirmed, MdM Japan launches a new project: "Rohingya Refugee Community Support Project" aiming to enhance the community's resilience for health risks and disasters by improving awareness and behavior of people living in camps.

Support activities include 20 areas (2,177 households) in Kutupalong refugee camps, it doesn't only concern the most vulnerable people, but includes all residents in the targeted area (men and young people included). All of the beneficiaries are actors who actively participate in community activities, it is important to emphasize community empowerment. In addition, in order to reorganize the Bangladeshi community health workers and Rohingya volunteers that have been engaged in activities so far as a community mobilizer (CM) teams, 40 new Rohingya young people (aged 14-17) are being trained as promoters, their role will be specifically oriented to the approach of children (aged 5-11) and other teenagers.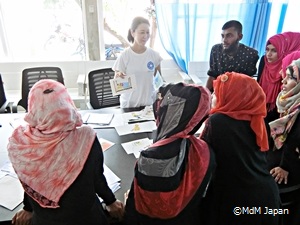 Together the trained CM and the 40 new recruits will provide residents in the targeted area with information on the role of vaccination, infectious diseases, first aid injuries, family planning, safe pregnancy and childbirth and prevention and response to disaster. Health education will be conducted as well as disaster prevention education. A new generation of young Rohingya residing in active areas will be involved, a more sustainable regional health and disaster prevention activity implementation system will be established. We aim to enhance community resilience by increasing every resident's self-awareness on health, hygiene and disaster prevention.

Ms. Kwihyang Ku, MdM Japan's project coordinator says:
"About 700,000 Rohingya refugees arrived at Cox's bazar camp in the past year. For them, this is a place of relief that it is protected from violence, however they cannot escape from the aftereffects of the violence and trauma they witnessed in Myanmar. And even in this physically distant land, the persecution they underwent in Myanmar is still very present in their memory . In addition, the Rohingya are still deprived of freedom and choice, such as freedom of movement to live in safety and health, basic education, salary, etc.… Basic needs that human beings should enjoy as human rights. About 60 babies are born every day, but most refugees cannot conceive any future for individuals and/or families, as conflicts continue, their anxiety grows. Yet, they keep smiling and keep kindness in their heart, and make us strong. I wholeheartedly support their fight, all united with the people of Bangladesh, volunteers and Rohingya youth."