INTERNATIONAL NGO COMMITTED TO MEDICAL HUMANITARIAN ASSISTANCE

Beyond all forms of barriers and obstacles, let alone nationality, race, ethnicity, or religion, we spare no effort to pursue our action-fundamentals to provide "Medical care" for all, and especially for those who are excluded from access to medical services. Adopting a community-based approach, and adhering closely to medical ethics, we support individuals and communities striving to influence social determinants of health issues. To empower their local commitment, our international medical teams have so far conducted over 373 healthcare programs in about 73 countries worldwide.

We "Testify" to all causes that undermine access to healthcare, all obstacles that harm outreach efforts, and all the violation to human rights.
Claiming for a broader accessibility to healthcare, we call on the authorities concerned as well as the decision-makers, and organize "Advocacy" campaigns, we are seeking a goal where healthcare is equally accessible to all citizens at nationwide.

In order to make change last and become a driving force to improve medical environment over the years to come, every member of the community where we have come to aid must become a central actor responsible for his/her own health condition. We support their devoted commitment in the enforcement of "sanitation and public health" policies. We also encourage the integration of professional knowledge with conventional ideas and know-hows, thus promoting proactive policies reflective of both expertise and universality.

It is our duty, as one of Médecins du Monde (MdM)'s chapter, to denounce all forms of barriers preventing access to medical services, and to aspire to a world where medical access is protected as a fundamental human right for all individuals.




ACTION FUNDAMENTALS
SOCIAL JUSTICE

We believe in social justice as a vehicle for equal access to healthcare, respect for fundamental rights, and collective solidarity.



EMPOWERMENT

With our partners, communities and their representatives, we help empower all socially and physically vulnerable populations to take action within the community they belong to, to become an actor of their own health condition, and to exercise their rights as a community member.



INDEPENDENCE

Our organization is independent of all political, religious or financial authorities and interests. We are independent in the choices of our programs and operating methods. We refuse all forms of subordination and will foster dialogue with local people and communities whom we come to work for.



COMMITMENT

As a committed and militant team of professionals, made up of volunteers and salaried staff, we provide medical services, bear witness to the unacceptable and – taking advantage of our diversity – support populations who are seeking social innovation.



AND BALANCE

We seek balance between national and international actions, between emergency and long-term actions, between medical and non-medical knowledge, and between public and private funding. This balance is a key factor to determine our legitimacy and originality.
FINANCIAL TRANSPARENCY

MdM is an international non-government organization, politically and religiously neutral, independent of all other authorities, and committed to medical relief activities with a fair and unbiased position. To ensure its freedom of choices of activity programs and methods, it is necessary to keep a balance between public and private funding, preserving at least 65% of private donations (individuals, corporates) and no more than 35% comes from the public sector (governments, UN agencies, etc.).




OUR PRIORITIES
CONFLICT AND CRISIS RESPONSE

MdM reacts quickly and effectively to crises and conflicts, which dramatically disrupt health systems. We've deployed medical teams all over the world to deal with the consequences of wars, natural disasters, and epidemics, taking all measures necessary to support the existing health systems to remain open through the crisis.
In the aftermath of a disaster, we seek ways to rebuild and improve infrastructure in a way that will make a lasting impact in the community. We support local partners to restore health systems that are accessible to all, sustainable, and better able to cope with future shocks.
REFUGEES AND MIGRANTS

The global refugee crisis presents an enormous challenge for healthcare provision, and supporting vulnerable refugees and migrants is at the heart of our work. We believe migrants should have access to high-quality healthcare at every stage of their journey, regardless of their nationality, immigration status or reason for leaving their country.
We empower refugees and migrants to access health services, advocate for health systems to be more flexible and inclusive, and educate health professionals about how to engage effectively with migrant communities.
HARM REDUCTION

MdM helps those who are vulnerable due to high-risk behaviours, such as drug use and sex work, which lead to diseases such as HIV and AIDS or hepatitis C. Sex workers, drug users and LGBTI people, especially in countries where homosexuality is illegal, tend to be excluded from mainstream health services either because of neglect or deliberate ostracism, leading to high levels of infection and general poor health.
Our harm reduction strategy involves non-judgemental treatment, which accepts our users' lifestyle choices, as well as advocacy and campaigning to change social attitudes and combat the stigma that can exclude people from mainstream healthcare.

<




SEXUAL AND REPRODUCTIVE HEALTH

MdM promotes sexual and reproductive health rights across the world, particularly in places where access to family planning, contraception and abortion is restricted or non-existent, and where LGBTI communities are excluded from mainstream healthcare. We believe abortion is a fundamental right and an important foundation of gender equality.
We are also working to reduce infant and maternal mortality rates. Every day hundreds of women and their babies die due to complications of pregnancy and childbirth. Most could have been prevented.

We work with local organisations and experts to find sustainable solutions to these problems, and design interventions that overcome barriers to sexual health services, which often involves direct political and legal action. It's not always easy, especially in countries like Pakistan, where family planning is viewed with suspicion and abortion is largely illegal, or the Democratic Republic of the Congo, where girls and women have had their basic sexual and reproductive rights violated for so long that it's become endemic. But we don't shy away from these challenges and we're prepared to do whatever it takes to make positive changes.
MDM INTERNATIONAL NETWORK

Through 330 programs* in 74 countries* run by 17 chapters*.
*2022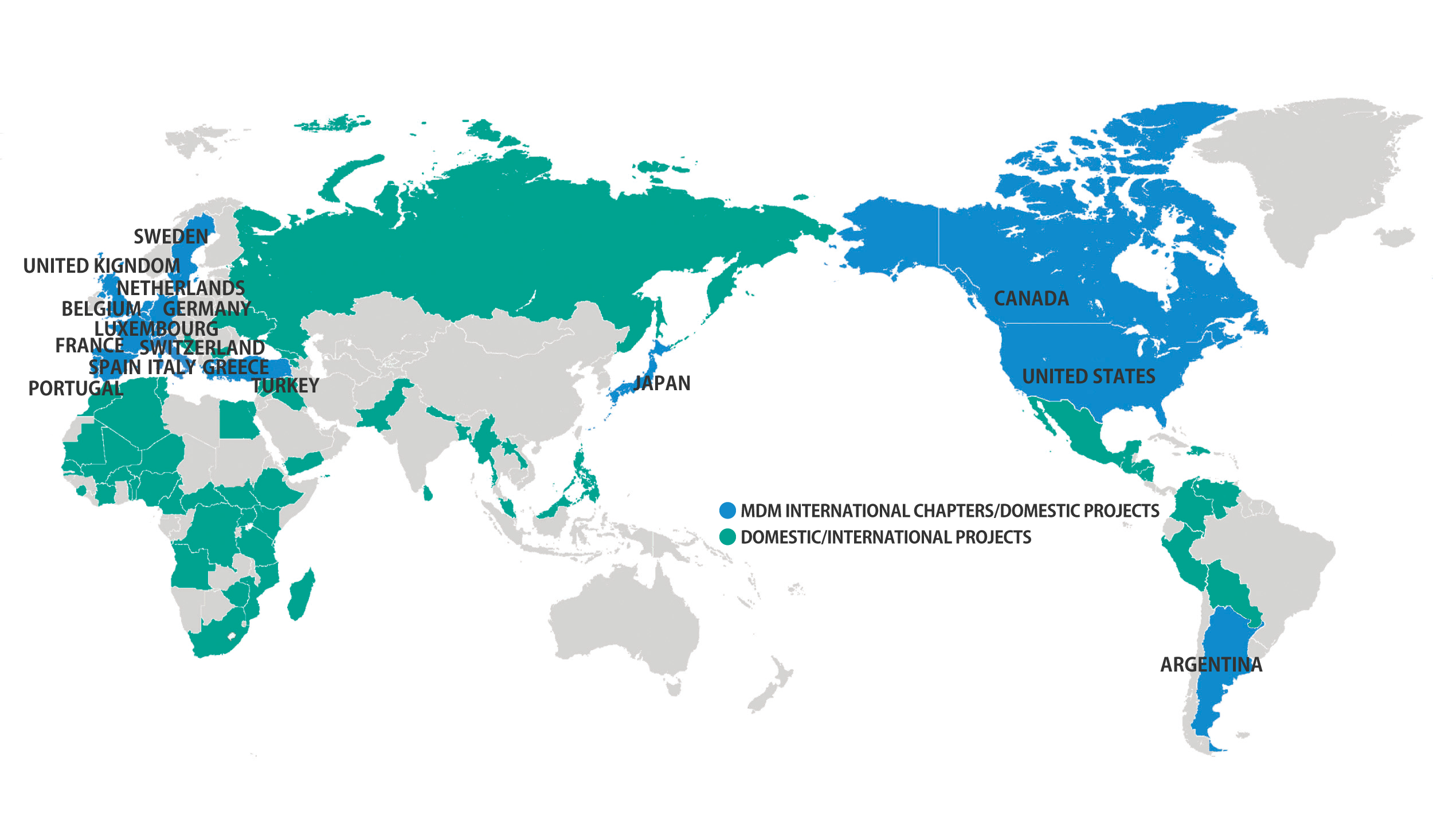 International Projects

・Africa: 79 projects in 26 countries
・America: 29 Projects in 9 countries
・Asia: 20 projects in 10 countries
・Europe: 11 projects in 7 countries
・Middle East: 16 projects in 5 country

Domestic Projects

・America: 12 projects in 3 countries
・Asia: 2 projects in 1 country (Japan)
・Europe: 204 projects in 12 countries